Before the Hitman comes a knock-out undercard!
If Hatton-Senchenko is arguably the biggest British fight of the year, then there can be no doubt that the undercard is the best we have seen in a British ring in a very long time.
At the press conference to promote these fights, Hatton matchmaker Richard Poxon described the undercard as being the best ever put on by Hatton Promotions and He is right.
All four title fights could easily headline a show by themselves. On Saturday 24th we get all these in one night, plus the return of the Hitman. How could it fail to be a memorable evening?
The order was announced as follows.
6PM- Sergey Rabchenko 21-0 (16KO) v Cedric Vitu 35-1 (15KO)
This fight will be for the EBU light middleweight title and the vacant WBC Silver light middleweight title.
Rabchenko is coming straight off ending the career of British stalwart Ryan Rhodes, who he stopped in seven and will be looking to enhance his reputation still further. Sergey described his French opponent as a "good boxer" but that he would "break him down."
Vitu is yet to arrive in the country, but boasts good wins over Christophe Canclaux and Kai Kauramaki who he defeated to win the EU title last June.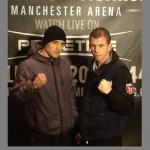 7PM- Gary Buckland 26-2 (8KO) v Stephen Foster Jnr 30-3-1 (18KO)
This fight will be for the British super-featherweight title that Buckland rested from Gary Sykes in September 2011.
For Foster this is an opportunity to return to championship glory. Just over two years ago Stephen won the European title against murderous puncher Levan Kirakosyan (stopping him in three) If that was impressive, what transpired was less so Foster lost his title to Belgian Ermano Fegatelli over 12 rounds in a tepid performance.  According to Foster, this was a fight he probably shouldn't have taken, due to 'out of ring issues.'
"I probably shouldn't have taken that fight, but this time my preparation has gone really well. I am looking forward to the fight. This is a great card to be part of it; it is great what the Hatton's have done."
Buckland is riding on the crest of a wave at the moment. He described himself as "ready" and "wanting to put on a performance."
8PM- Scott Quigg 24-0-1 (17KO) v Rendall Munroe 24-2-1 (10KO)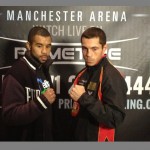 This fight will be for the interim WBA World super-bantamweight title and will be a rematch of their first fight in June, which was stopped after three rounds when Munroe was cut above the right eye from an accidental clash of heads and declared a draw.
Quigg described himself as "disappointed" at what happened last time out and that this fight was "unfinished business." He also described it being on this undercard as a "dream come true"
Munroe himself was "looking forward to the fight. But there were to be no grandiose words from the former 'boxing binman'
I have always been one to walk the walk instead of talking the talk. I have to go out and do the business."
9PM- Martin Murray 24-0-1 (10KO) v Jorge Navarro 12-0 (10KO)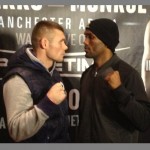 This contest will be for the interim WBA World Middleweight crown.
For Murray this will be his second crack at a world title after earning a creditable draw against Felix Sturm in Germany in December 2011. Murray admitted to not seeing much of his unheralded opponent, namely "two minutes of him knocking somebody out in his first, showing him what he knew anyway, that he was a banger."  Murray is unlikely to be looking past Navarro however, what with the massive showdown with Sergio Martinez seemingly just one fight away.
Navarro will be unknown to many watching on the night but he described himself as a "professional, always training and always ready." For Navarro this is a huge opportunity, one he will seek to grab with both hands.
We were able to catch up with a few of the fighters after the conference finished.
CLICK HERE TO READ THE INTERVIEWS WITH THE FIGHTERS