Face to Face – Hatton Undercard Interviews
After the press conference we were able to catch up with a number of fighters appearing on the Ricky Hatton-Vasyl Senchenko undercard on Saturday night.
First up we got to talk to Sergey Rabchenko.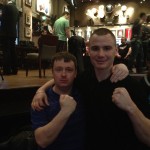 Sergey will face Cedric Vitu of France for the European light middleweight title, and the vacant WBC Silver light middleweight crown.  His preparation has included sparring Ricky Hatton, a worthwhile experience for the Russian.
"it is good sparring with Ricky, I am getting faster, sharper, better technically and tactically. I like training there, the staff are really friendly. I am confident for Saturday."
Rabchenko looks ready to go. Despite apologising for his lack of English (which is far better than he gives himself credit for, and certainly better than my Russian) he was extremely approachable, yet seemed focused on the task in hand. I expect to see a big performance from Rabchenko on Saturday night.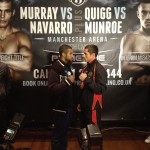 For many the fight of the night will be the interim WBA World super bantamweight title clash between Scott Quigg and Rendall Munroe. This is a fight that has split opinions right down the middle, some going for the youth and energy of Quigg, others the experience and knowhow of Munroe.
It would have been remiss of me not to speak to both protagonists. First up I spoke to Rendall Munroe.
MD- With a lot of people talking about Quigg and Frampton, do you ever get irritated that, as a former European champion and world title challenger, you don't seem to get the credit you deserve?
RM- Not at all, they are both young prospects and I am coming to the end of what I call the 'pound waggon' while they are at the start of it. People are going to want to talk about them more. Not to worry, I just have to go out and put in a performance.
MD-How is the eye? (Munroe received a severe cut due to a head clash five months ago when he first faced Quigg, causing the fight to end in a draw)
RM-Have a look yourself, you can't even see it, no problems there at all.
MD-You are right (I'm rather shocked it hasn't scarred to tell the truth) Finally, do you think a win against Quigg will remind people of just how good you are? People quickly forget how well you did against Nishioka in your world title challenge due to the fact you have been inactive.
RM-The Nishioka fight was a good thing and a bad thing at the same time. The good thing is that it showed I can hang at that level. The bad thing is that nobody wanted to fight me as I was dangerous. But it is my chance on Saturday night.
Finally I spoke to Scott Quigg. Scott is arguably the hottest prospect on the whole card, but he knows full well that Saturday night will be the biggest test of his career so far.
MD- So I take it you have a lot of respect for Rendall then?
SQ- Yes I do. He is a good guy who has had a good career. The man is a real good working class hero; I have got nothing but good things to say about him.
MD- It has been five months since you first fought. Has that time helped you develop at all?
SQ- Yeah, since then I have done loads of work. We went to the Wild Card Gym and did plenty of sparring at that brought me on loads. That was a really great experience and has helped me big time.
MD- Final question, and an obvious one.  If you beat Rendall, and that is an if, nobody would ever look past him, do you think the Frampton fight is possible, or would this win raise you above him and put you at world level?
SQ- I'm not answering that
MD- Fair enough. Good luck on Saturday.
Though Quigg sounded abrupt in his manner, I can understand him completely. Though it is a question people would love to know the answer of, answering it could make him A) sound like he was looking past Munroe or B) Give people the chance to make an anti- Frampton sound bite and encourage  a war of words. Either way Quigg sounds focused on the job in hand and seems a man ready to go to war.
So all in all a very interesting day at the press conference.
We must say a big thank you to all at Hatton promotions who made it possible.
I seriously can't wait for fight night!
Martin Dobbing – Fight Options