Chris and Paul are ready to rock Chester!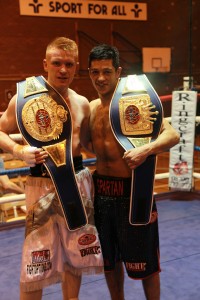 All the formalities are done, it's all down to the fighters now.
There were late changes of opponents for our Chester fighters after the original Georgian adversaries both suffered visa issues
However, the new opponents bring a great deal of class and toughness into the ring as Chester gears up for the biggest night of boxing in the city's history.
Chris Goodwin (18-2-1) will face off for the WBF welterweight title against Georgian Mikheil Avayani (25-15-4 11KO). Avakyani has gained a reputation as being a decent operator around the European circuit, even going the distance with former WBC super featherweight champion Vitali Tajbert last year. He is also no stranger to these shores, after stepping in the ring with Kevin Mitchell on March
It will be interesting to see how Goodwin reacts to firstly the change of opponent, and secondly the change in weight (having jumped from the original lightweight limit to welter for this fight due to the change of opponent). Both weighed in at 10st 2lbs for what should be a truly fascinating match-up.
Repeat or Revenge?
When Hungarian David Kanalas (15-11 7KO) was crumpling to the floor after a fierce Paul Economides (14-5 1KO) barrage in their WBF International super-bantamweight fight in April, few would have thought they would have seen him in a Chester ring again. However, from the moment he stepped out of the ring, Kanalas campaigned to the WBF for a rematch. Now he gets his chance in a WBF inter-continental super bantamweight title fight.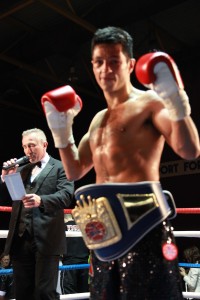 Kanalas was adamant that he fought the wrong fight first time round, and feels he can take Economides to school if he executes the correct gameplan. He went back to his homeland and took compatriot Laszlo Fekete to school. The WBF noticed and accepted his pleas for a rematch.
For Economides, this is the biggest fight of his life. He knows he is one fight away from fighting for the full world title; something he has dreamed about since he was a child. Still, to get there, he will need to prove that the first fight against Kanalas was no fluke.
The talking is now over and it is time to fight. By tomorrow night, Chester may well have a new world champion and another preparing for his chance to achieve that dream. Economides weighed in at 8st 9lb 8oz whilst Kanalas came in at 8st 9lb 3oz.
Tickets are priced £55 ringside and £35 outer ring