Hatton: The Talking Finishes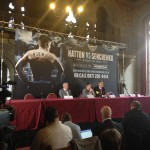 So, the talking is over and the final press duties have been completed ahead of Ricky Hatton's comeback on Saturday night. Thursday we saw the final press conference to showcase his return on Saturday night against Vyacheslav Senchenko on Saturday night at the Manchester Arena.
However, the first duty of Richard Poxon (Director of Boxing at Hatton Promotions) was to apologise to the waiting press for the failure of Senchenko to turn up for the face off.  I think it's fair to say that Hatton Promotions were as much in the dark as to where Senchenko was as everybody else – a number in attendance commented that it looked like the Ukrainian didn't fancy it.
We spoke briefly to Pauli Malignaggi who said that he wasn't surprised that Senchenko didn't show up and that he considered him to be on the frail side.
"He's not the most mentally strong fighter" Mallinaggi commented when asked about his Style, suggesting Senchenko struggles in many areas with the mental game.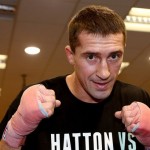 The question was then raised to Ricky himself:
"Do you regard it as a weakness that Senchenko isn't here?" Ricky was asked.
"I couldn't give a shit to be honest" he replied with the same smile on his face that we probably haven't seen since the ridiculing he gave Mayweather, the last time we had a big press conference in Manchester's Town Hall.
But the absence of his opponent gave Ricky extra chance to talk, speaking at length of his pride at the reaction to his comeback. His team also spoke of their pride at how Hatton has worked to get himself once again to the top table of the sport. There seems to be genuine pride from Bob Shannon and Team Hatton,  due to the way Ricky has come back and taken himself to a better place, mentally and physically.
THE CAMP
We were lucky enough to talk privately with Ricky, we asked him how things had gone, if he was ready:
"I've had some great sparring. Because I've been out for 3 years I have done more than I have ever done before, that's the way it had to be – And I feel really sharp for it Really it's been 5 months to get to this point, not just the 11 weeks of camp.  I've started to get around the gym more, training the boys, and before you know it, this is where it has lead too".
To be perfectly honest Senchenko not coming was a shame, but in the end, people were there to see Ricky. He certainly looked ready; all the signals were there and he seems aware of the job he has in front of him, looking like a fighter who just wants the fight to arrive.
However, what pleases me is acknowledgement that Hatton was on the way "back" 3 months before he announced his return to the ring. Hatton is doing this for all of the right reasons, for himself firstly, for others second – which is the way it should be done.
"Sometimes life doesn't go great" commented Hatton, "but you have to come back".
This is what pleases me the most. Boxing is no place for romance, gimmicks and sentiment. Getting between the ropes should be done only if you are ready and willing to put it on the line. Hatton isn't playing games, and the fire seems very much there.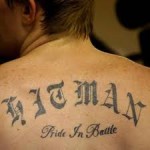 One question I had, listening to Ricky talk of 'redemption' was that I wondered if he had forgotten just how big a star he is, especially to the fight fans in Manchester. Now I realise he hasn't forgotten, and he knows what he means to people, and knows he can bring even more joy to them on Saturday."I hope I gave my fans a lot of great nights and occasions, the only thing I asked was for a little sympathy of how things went during my retirement. I had a lot of demons to deal with but I'm back to make them proud of me"
I reminded him at this point that the show had pretty much sold out in two days, showing that the fans never really left. Ricky replied
"To be honest, some were heartbroken for me, and I think there was a mixture of disappointment and sadness, but I'm going to make them proud of me again"
Ricky was quizzed about his speed, and the possible ring-rust. He replied by saying that, 'even with the miles on the clock, the hunger he now has is driving greater speed and power from him'. Also, he's been 'looking at the things that went badly during his two defeats' and 'using the fights that almost destroyed him as training tools and fuel this time around'.
TRAINING WITH BOB
I asked him how training had gone, as we all know Ricky had a disaster of a camp in the build up to the Pacman fight last time out.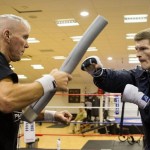 "Bob's taken it old School; my best work was always with Billy, changing the angles, doing weights, circuits and using the old fashion methods."
This seems to be borne out by extended work on the body bag, to go along with a lot of extra work on reflexes under Shannon. The question is, will we see the assaults to the body that made Hatton famous?
And how about today's invisible opponent?  Didn't Hatton not fancy a nice easy tune up rather than a ex world champion who has only lost once in 33 fights?
"Well, for my first one back everyone expected me to pick a journeyman, even the team, but they know me and know that the aim is to go for a world title so I wanted someone ranked. I guess nobody knows what's going to happen on the 24th, training is different to when that bell goes, but we'll see if there's life in the old dog yet".
And so that's that. We all, Ricky included, are going to find together out if Hatton can still do it on Saturday night. But what will not be in any doubt will be the fact that Hatton will have achieved something Saturday night that even he perhaps never thought he would in his darkest moments less than a year ago.
To step in the ring and be a hero once again.
(Thanks to our friends at Hatton Promotions and Shane Thomas' gym who helped us produce this article, you should all be proud of the work you are doing.)