BBBC Annual Awards 2012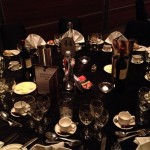 So, Friday saw the BBBC Annual awards dinner and, to their credit, a good time was had by all.   We were lucky enough to spend the night in the company of some great boxers both from the past and the present. Our little table was furnished with some top people including Promoter and former boxer Spencer Fearon along with Darren Hamilton, Erich Ochieng and Kreshnik Qato among others, they were all great company.   The extended guest list was a who's who of British Boxing with only those preparing for up and coming contests unable to join in.   The awards themselves were sponsored by
Boxing News
who assisted in the presenting along with Adam Smith and Johnny Nelson.     
The Awards:
We had our own favourites for the awards, we thought the Boxer of the year would be between Froch and Burns in what has been a year to remember for both. We were also confident that Matthews/Crolla would be fight of the year – we got that one wrong!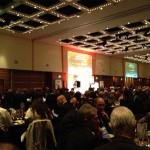 As it turned out it was a pretty good weekend for
Carl Froch
who won two awards that evening before going on to demolish Mack in Nottingham on the Saturday night.   There were so many great boxing nights over the last 12 months, but nobody could argue that Froch being recognised this was fully deserved.  
Fighter of the Year: Carl Froch
Contest of the Year: Walsh v Appleby
Overseas Fighter of the Year: Carson Jones
Dennie Mancini Award: Carl Froch
Simon Block picked up a Lifetime achievement award and Brian Hughes was awarded for his outstanding contributions to boxing. As someone who lived in Manchester I was pleased for Him, this was well deserved.
As you can tell this isn't an official review and, as such a "merry" time was had, we may have missed a few details (and people) out, sorry about that – I'm sure BN will write things up in full!
However, we would like to put on record our Thanks to the BBBC and in particular to Lynne who helped sort our tickets and accommodation.